Entrusting all
At Christmas we are shown that our courteous Lord chose to make the eternal bliss of the Holy Trinity known to us, to entrust himself bodily and entire into the hands of his own creatures, even to new untried parents, intent, through care, on his, and others' good. Someday he will even give himself into the hands of people, intent, through destruction, on what they believe is their good and the good of others.
In the end, we have no art of mind to comprehend the measure of this thing God has done—that this devastatingly simple act of trust is the method chosen above all others to be the means by which God, all Power, all Wisdom, all Love, makes known to us his eternal rejoicing at our existence, and God's ardent desire that we be completely and consciously his.
The Father has entrusted to Mary and Joseph, and through them, to us, this fragile, spotless mirror of the Divine Life. If we are still enough, if we have courage enough, we may read in this mirror a mercy and truth, righteousness and peace that judges all our darkness, violence and un-peace and banishes them by the authority of a humility deeper than time, since the foundation of the world.
In the same humility our courteous Lord Jesus gives himself bodily into our hands again and again at our altar, both model and means, Christ our way our truth our life. "The Word was made flesh and dwelt among us." He dwells among us yet, and gives himself always: Come, let us adore him.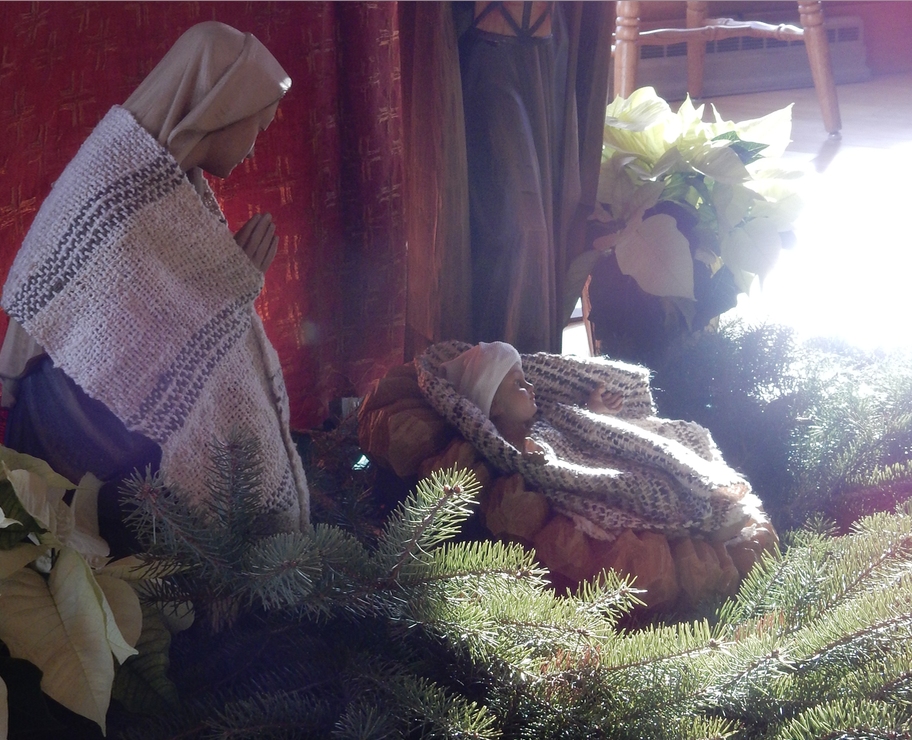 Recent Issues
November 2023
October 2023
July 2023
May 2023
January 2023
December 2022
October 2022
September 2022
July 2022
May 2022
April 2022
March 2022
January 2022
December 2021
November 2021
October 2021
June 2021
May 2021
April 2021
February 2021
January 2021
December 2020
October 2020
September 2020
August 2020
July 2020
June 2020
May 2020
April 2020
March 2020
February 2020
January 2020
December 2019
November 2019
October 2019
September 2019
August 2019
July 2019
May 2019
April 2019
March 2019
January 2019
December 2018
November 2018
October 2018
September 2018
August 2018
July 2018
June 2018
May 2018
April 2018
March 2018
February 2018
January 2018
December 2017
November 2017
October 2017
September 2017
June 2017
May 2017
April 2017
March 2017
February 2017
January 2017
December 2016
November 2016
October 2016
September 2016
August 2016
July 2016
June 2016
May 2016
April 2016
March 2016
February 2016
January 2016
December 2015
November 2015
October 2015
September 2015
August 2015
July 2015
June 2015
May 2015