Choir Practice
At the end of Chapter 19 of the Rule of St Benedict comes a comment on the matter of psalmody and the praying of the Divine Office: "Let us stand to sing the psalms in such a way that our minds are in harmony with our voices."
One would think that in a monastery, of all places, this would be like falling off a log. After all, this is the brass ring, the goal of the round of spiritual practice and everything we do all day, whether in the monastery church or outside of it. What we are after is the integration of the human person, where everything is present and accounted for, where what is good is gratefully rejoiced in, and what is still broken is nonetheless borne with patience and equanimity—everything in an open-eyed balance that is more and more in accordance with the love and will of God.
Yet there is in us something which militates against this movement. So often our own interior wrathfulness cannot allow us to rest or be satisfied even on the most superficial bodily level. And that the conditions under which we pray, or the companions with whom we pray, aren't specially tailored to our atmospheric preference makes all this an arena of challenge and cost: here come the lions—or the mice—it doesn't much matter which. Rehearsing our interior discontent during time ostensibly given to prayer renders us unavailable for the graced moment when mind, heart, voice, and awareness are on the same page.
So we get to live the real-life version of the dilemma at the heart of the film "Groundhog Day"—every day the same thing, the same way, at the same time, for the Holy Spirit is lovingly relentless—and against this backdrop we get to practice, endlessly, our intentioned response.
Replacing culverts on Highway 55 this week.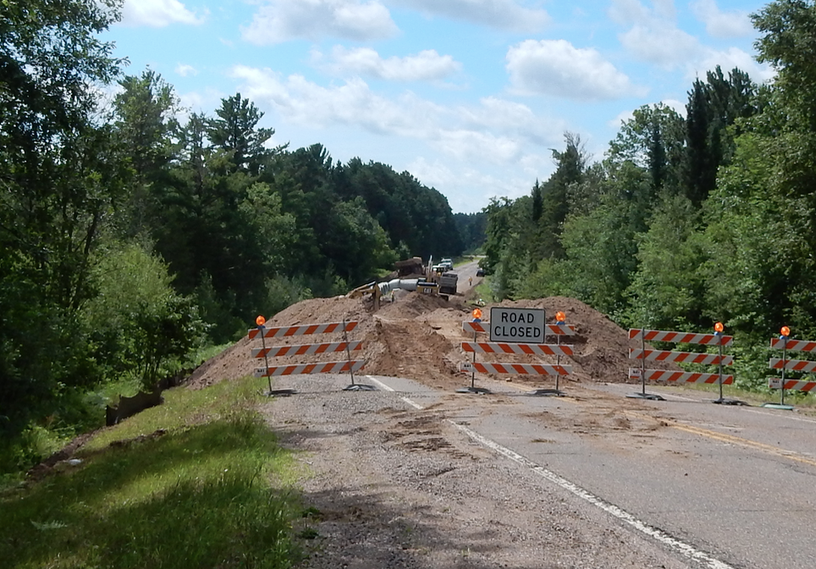 Recent Issues
January 2023
December 2022
October 2022
September 2022
July 2022
May 2022
April 2022
March 2022
January 2022
December 2021
November 2021
October 2021
June 2021
May 2021
April 2021
February 2021
January 2021
December 2020
October 2020
September 2020
August 2020
July 2020
June 2020
May 2020
April 2020
March 2020
February 2020
January 2020
December 2019
November 2019
October 2019
September 2019
August 2019
July 2019
May 2019
April 2019
March 2019
January 2019
December 2018
November 2018
October 2018
September 2018
August 2018
July 2018
June 2018
May 2018
April 2018
March 2018
February 2018
January 2018
December 2017
November 2017
October 2017
September 2017
June 2017
May 2017
April 2017
March 2017
February 2017
January 2017
December 2016
November 2016
October 2016
September 2016
August 2016
July 2016
June 2016
May 2016
April 2016
March 2016
February 2016
January 2016
December 2015
November 2015
October 2015
September 2015
August 2015
July 2015
June 2015
May 2015